Living with a Cochlear Implant: EURO-CIU Symposium in Helsinki 20th-21st April 2017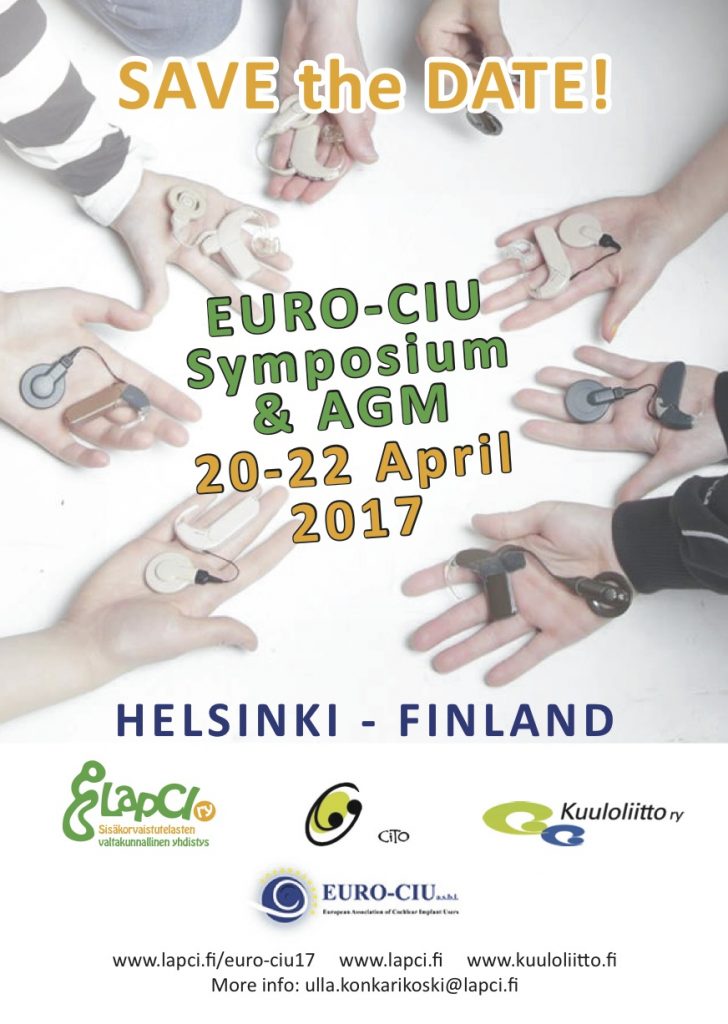 EURO-CIU Symposium brings together over 200 Cochlear Implant (CI) users and professionals around Finland and Europe. Spouse of the President of Finland, Mrs Jenni Haukio, will act as patroness and the opening ceremony in the Thursday morning will be opened by Minister of Social Affairs and Health Pirkko Mattila.
The programme consists of expert lectures and workshops. International lecturers arrive from around Europe and Australia. All together over 40 presentations in three different rooms. See the programme here: http://www.euro-ciu2017.fi/en/program/
Arrival info here: http://www.euro-ciu2017.fi/en/accommodation/
Please note: Parking by The Light House is free, however parking places are limited. We recommend public transportation. There may be some parking lots on the streets nearby.
When you arrive to The Light House, please register at the information desk. You will receive your name tag with the lunch tickets (in the plastic badge) for those days you have registered. Due to limited amount of seats and to ease the dining room rush, we wish to make two waves at the lunch hour and ask you kindly to move back down to the lobby, when you have finished eating. Coffees are served down at the lobby.
Our happening will be interpreted (simultaneous interpretation only in auditorium, text interpretation in every room). If you ask any questions, use the microphone, please.
Registration opens both days at 8:00. The programme begins on Thursday at 9:30 and on Friday at 9:00.
More info here: http://www.euro-ciu2017.fi/en/
Warmly welcome to Helsinki! The office of LapCI ry will be closed due to Easter from 14th until 17th April 2017.
Ulla Konkarikoski
Executive Director, LapCI ry